Disjecta Contemporary Art Center
8371 N. Interstate Ave., Portland, OR 97217
Disjecta Contemporary Art Center builds ambitious programs that promote artists and engage communities.
Disjecta Contemporary Art Center aspires to present forward-thinking work from visual and performing artists. Disjecta provides a professional platform in which artists can realize their best work and engage new audiences. Dynamic programs showcase new work and fuel collaborations between artists, curators and viewers that impact and intervene in the larger contemporary arts dialogue. Disjecta exacts equal rigor from local and national artists, while keenly recognizing and supporting the talent of the region.
Phone

503.286.9449

Hours

Fri-Sun: 12-5 p.m.

Website
Twitter

Neighborhoods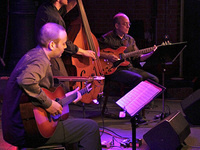 Presented by the 2019 Biamp PDX Jazz Festival. Stephan Crump brought together Rosetta Trio for the first time in 2005 to record an album of pieces written...
Recent Events