Portland Art Museum
1219 S.W. Park Ave., Portland, OR 97205
Find out why the oldest museum in the Northwest, the Portland Art Museum, is internationally renowned for exciting art experiences. Located in the heart of downtown's cultural district, the museum's campus includes an outdoor sculpture court and historical interiors. Tour the world and travel through history in the magnificent permanent collection galleries, including the centers for Northwest and Native American Art, and all six stories of modern art and special exhibitions. Open Tuesday-Sunday; admission charged. Children 17 and under free. Admission is free on the fourth Friday of every month from 5-8 p.m. The museum also offers free admission and special family programming several times a year.
Phone

503.226.2811

Website
Neighborhoods
Recent Events
In conjunction with the Museum's 125th anniversary, Picturing Oregon offers an extraordinary opportunity to reflect on the importance of place and to...
"Featuring nearly 100 paintings and drawings from the Richard Diebenkorn Foundation, many of which have never been shown publicly, this exhibition is a...
Featuring 100 paintings and drawings from the collection of the Richard Diebenkorn Foundation, Richard Diebenkorn: Beginnings, 1942–1955 traces the...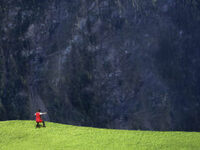 Su-Mei Tse (born Luxembourg, 1973) trained as a classical cellist in a family of musicians. As a visual artist, her work unites sound, image, and body in a...
The Portland Art Museum is pleased to announce The Shape of Speed: Streamlined Automobiles and Motorcycles, 1930–1942, a special exhibitionfeaturing 18 rare...